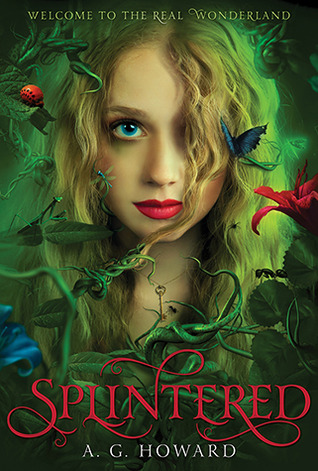 Author: A.G Howard
Pages: 371 pages
Publisher: Amulet Books
Release Date: January 1st, 2013
Received from: my school library
Summary (from Goodreads):
This stunning debut captures the grotesque madness of a mystical under-land, as well as a girl's pangs of first love and independence.

Alyssa Gardner hears the whispers of bugs and flowers—precisely the affliction that landed her mother in a mental hospital years before. This family curse stretches back to her ancestor Alice Liddell, the real-life inspiration for Lewis Carroll's Alice's Adventures in Wonderland. Alyssa might be crazy, but she manages to keep it together. For now.

When her mother's mental health takes a turn for the worse, Alyssa learns that what she thought was fiction is based in terrifying reality. The real Wonderland is a place far darker and more twisted than Lewis Carroll ever let on. There, Alyssa must pass a series of tests, including draining an ocean of Alice's tears, waking the slumbering tea party, and subduing a vicious bandersnatch, to fix Alice's mistakes and save her family. She must also decide whom to trust: Jeb, her gorgeous best friend and secret crush, or the sexy but suspicious Morpheus, her guide through Wonderland, who may have dark motives of his own...
Splintered was a fascinating and unique take to the Alice in Wonderland story! It's nice to see glimpses of our beloved classic tale blended with Howard's distinctly creative mind!
The story centres around Alyssa Gardener, a descendent of the real Alice in Wonderland herself. But her family holds a dark secret: all the women are insane. When Alyssa gets the chance to save her mother (who's succumbed to the family illness), and herself, she takes a leap into the rabbit hole, dragging alongside her childhood friend Jeb. There, witness a world much different from Alice's tales, and meet Morpheus, a mysterious old friend who has his own ghosts to deal with.
I decided to pick this book up because I've heard so many good reviews, and I'm a big fan of Alice in Wonderland itself. Splintered was a great book, and I loved how I was able to visualize almost everything going on (although, I used a lot of Tim Burton's film as a subconscious reference). Everything was darker, mature, and scarier than the original tale, and I like how Howard used the whimsical feel of the story to make it her own.
Personally, the story, not the love story, was amazing. Alyssa's devoution as a daughter and to her friend's makes her a wonderful, yet sometimes stubborn, character. At the beginning she's really hesitant about her decisions, even though we're all aware of her sharp tongue and ability to hurt people. While she relies on her two love interests the majority of the book, she's not completely independent by the end of the book, but she's stronger than she was in the beginning, which makes me happy.
Now, that love story. Oh, there were many hearts harmed during the duration of this book.
While it was clear from the get-go where the author was leaning towards with the relationships, I didn't really like the love story. Alyssa and Jeb were, in my opinion, constantly fighting the ENTIRE book, and it wasn't till the end when I finally said, "awe." And her relationship with Morpheus was strained, sketchy, and controlling. I understand that Morpheus had a thing for her, and was trying to cling onto his "little luv", we ALL knew that there was some underlying motive going on.
And while we're on the crazy love triangle, I do like Morpheus more because he's one of those characters we all hate but can't help but like. He just surprises everyone all the time. But before the war between her two leading men begin, they're still toxic characters for her in my opinion. They were BOTH equal parts annoying and controlling for me for the entire book- till the end. I think I liked the end the most.
For me, I think Alyssa could do without the two guys. While they did help her, and Morpheus did help her with her own metamorphosis, she could still be fine. I felt like she was just constantly going back and for between them that she just sort of forgot half the time why she was there.
Overall, the story was good. There was a lot left unsaid by the end, and leaves A LOT open for Unhinged.
Most people want to know what's going to happen now that her mom is back and Jeb stuck, but I want to know what happened to the Red Queen? The plot did (sort of) revolve around her, and she's the one character I don't know whether to pity or hate?
Anyways, I totally recommend this book. I am anticipating the sequel, and am upset we don't have it in my school's library. If you liked The Lunar Chronicles and Dorothy Must Die, then I totally recommend this book to you!
Rating: