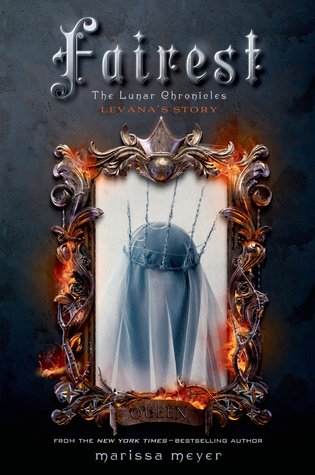 Expected Release Date: January 27th, 2015
Status: The Lunar Chronicles #0.01
Synopsis (from Goodreads):
In this stunning bridge book between Cress and Winter in the bestselling Lunar Chronicles, Queen Levana's story is finally told.

Mirror, mirror on the wall,
Who is the fairest of them all?

Fans of the Lunar Chronicles know Queen Levana as a ruler who uses her "glamour" to gain power. But long before she crossed paths with Cinder, Scarlet, and Cress, Levana lived a very different story – a story that has never been told . . . until now.

Marissa Meyer spins yet another unforgettable tale about love and war, deceit and death. This extraordinary book includes full-color art and an excerpt from Winter, the next book in the Lunar Chronicles series.
I am really excited to get my hands on this book! Is it sad that I love this series, but I don't own my own personal copies of the books? I have to change that once I finish saving up for my laptop!
Anyways, I have been DYING to read this book in forever! I don't think I've ever been so excited to read about a villain's backstory before. I feel like that we're going to get a lot of questions answered in this book, and from what I'm hearing, it's going to be a little sad.
I don't know how I feel about sympathizing with Levana.
But I just really want all of my questions to be answered: why is she so crazy? Why does she like using her glamour so much? What happened to her husband? Does this take place before or after Cinder is born? Do we get to see Cinder's mom? Why are Lunars so mean?
HOW DID THE FREAKING DISEASE GET TO EARTH?
Is Levana, after all she's done in the present story, really the better sister?
Have a happy Wednesday everyone!