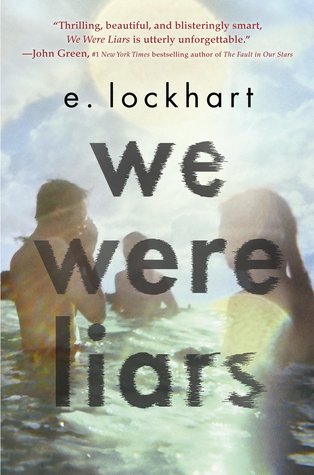 Publisher: Delacorte Press
Release Date: May 13th, 2014
Synopsis (from Goodreads):
A beautiful and distinguished family.
A private island.
A brilliant, damaged girl; a passionate, political boy.
A group of four friends—the Liars—whose friendship turns destructive.
A revolution. An accident. A secret.
Lies upon lies.
True love.
The truth.

We Were Liars is a modern, sophisticated suspense novel from National Book Award finalist and Printz Award honoree E. Lockhart.
Read it.
And if anyone asks you how it ends, just LIE.
Review
We Were Liars was a lyrical, dramatic and a sad story about wealth, family, relationships, and the desperate life of being a trapped teenager.
I don't really want to give too much of this story away, but We Were Liars is a beautifully written story about a girl and her friends who make the worst decision of their lives. I quite enjoyed the prose, and I loved the emotional roller coaster our narrator, Cady, feels.
Although I didn't really like the story as much as I wanted to, and I felt like the plot was really obvious, the emotional drama and turmoil that she faces connects to her readers in some way or another. And even though it was obvious as to what really happened, the way the story unfolds is done nicely.
I felt like the story had a Great Gatsby feel, and I truly felt bad for all the characters and their suffering.
Rating: 3.5 out of 5 stars