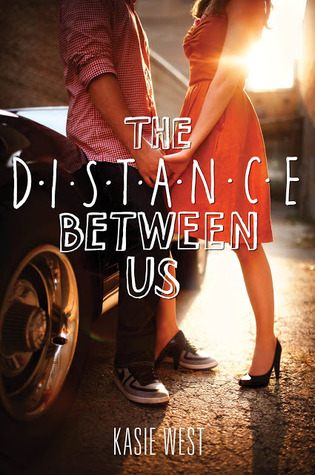 Release Date: July 2nd 2013
Synopsis (from Goodreads):
Seventeen-year-old Caymen Meyers studies the rich like her own personal science experiment, and after years of observation she's pretty sure they're only good for one thing—spending money on useless stuff, like the porcelain dolls in her mother's shop.

So when Xander Spence walks into the store to pick up a doll for his grandmother, it only takes one glance for Caymen to figure out he's oozing rich. Despite his charming ways and that he's one of the first people who actually gets her, she's smart enough to know his interest won't last. Because if there's one thing she's learned from her mother's warnings, it's that the rich have a short attention span. But Xander keeps coming around, despite her best efforts to scare him off. And much to her dismay, she's beginning to enjoy his company.

She knows her mom can't find out—she wouldn't approve. She'd much rather Caymen hang out with the local rocker who hasn't been raised by money. But just when Xander's attention and loyalty are about to convince Caymen that being rich isn't a character flaw, she finds out that money is a much bigger part of their relationship than she'd ever realized. And that Xander's not the only one she should've been worried about.
The Distance Between Us is going on my favourite YA contemporary shelves. The story is a quick read, and is about a romance between rich boy Xander Spence and superbly average, Caymen Meyers.
Caymen has grown up in a small town, living with her mother in a tiny apartment above their porcelain doll store. Throughout her life, she's been taught about the rich, and all the bad things about them from her mom. But then lo and behold, Xander Spence (a very well off guy) comes in and makes her realize that her mom's been wrong for so many years.
Now, the synopsis is really cheezy for those who aren't a fan of insta-love, but trust me, you'll like the book, especially if you're looking for something to get out of mourning period with.
What I didn't really like about the book is Caymen's hesitance to stand up for herself. She's a really smart girl who enjoys science, but she's too afraid at times to venture out on her own. I did, however, liked how she and Xander had career days, and slowly grew out of their shells together. But the fact that she always jumped conclusions and had no faith in THEIR relationship kinda made me upset at times, because he's such a nice guy.
What I liked was the plot twist at the end of the novel, that explained why her mom had such a disregard for the rich. But the novel was so short, I felt like there could've been more of a build up, or we could have seen more interaction with Caymen and her mom. What I also didn't like, was that we never learned who Matthew was. Like, was he Caymen's mom's tax collector? Or was he her boyfriend/lover? He couldn't be Caymen's dad, because I re-read the book a day after I finished it (it was that quick to read), and found that they aren't (their eye colours are different).
Anyways, for me, I just wished the book was longer. But I did appreciate the nice story.
Rating: 3.5 out of 5 stars!