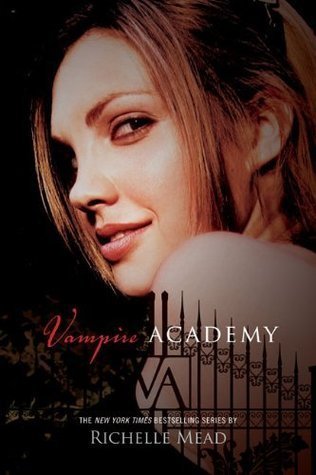 Release Date: August 16th, 2007
Status: Vampire Academy #1
Synopsis (from Goodreads):
St. Vladimir's Academy isn't just any boarding school—it's a hidden place where vampires are educated in the ways of magic and half-human teens train to protect them. Rose Hathaway is a Dhampir, a bodyguard for her best friend Lissa, a Moroi Vampire Princess. They've been on the run, but now they're being dragged back to St. Vladimir's—the very place where they're most in danger...

Rose and Lissa become enmeshed in forbidden romance, the Academy's ruthless social scene, and unspeakable nighttime rituals. But they must be careful lest the Strigoi—the world's fiercest and most dangerous vampires—make Lissa one of them forever.
Review
I have read Vampire Academy a million times since I first picked it up in the 7th grade and I have loved it every single time I've re-read it.
When I first read Vampire Academy, it was right at the peak of Twilight's success, and I actually stumbled upon this book when I first read a story on Wattpad and it was mentioned.
I was furious when I first heard that Vampire Academy existed (because I wanted to write a story called Vampire Academy, where a school of seemingly normal kids gets a 'vampire-like' student amongst them one day; I was all about being like Stephanie Meyer back in the day), but once I picked up the first book I realized that it was an AMAZING story, and I loved it better than Twilight (which was blasphemous at the time).
Vampire Academy is a story about a half-vampire, half-human girl named Rose Hathaway, and her life as the best friend and guardian of Princess Vasilisa 'Lissa' Dragomir. The two have ran away from their high-security school made for the elite and their guardians-in-training, and are dragged back by Dimitri Belikov, Lissa's new guardian and Rose's replacement. The two try getting themselves back into their old roles, but find it harder as they learn it's more dangerous inside the Academy walls than it was outside.
I love Vampire Academy because it isn't your traditional vampire story where your main character falls in love with the sexy, brooding vampire ten seconds within the book. Although it does have brooding, sexy vampires, Vampire Academy is a story of friendship and family, and how loyalty can become your savior and your downfall.
Rose Hathaway is a kick-ass narrator with lovely looks and a witty humour. She is often looked down upon because of her runaway record and former wild-child status, but since returning to the school and training with the ever mysterious and sexy Russian Dimitri, proves that she has matured and takes her job seriously. She's a really interesting character because she is selfless, and even when she's hurting, she is thinking of her best friend 24/7.
The beginning of this book was really hard for me to grasp- right off the bat, there are a lot of terms thrown at you, and I know a lot of people who have stopped reading before the second chapter because of all the terms.
The plot of this book was very fast paced, and I did have a hard time figuring out who was after the two of them in this story. Aside from the fact that Lissa is being threatened by an anonymous psychopath, the two still have to deal with normal teenage drama: gossip, mean-girls, image, and popularity.
Vampire Academy was a great read, and I loved every second of it! It makes you want to leave your computer at home and start working out so you can be as kick ass as Rose.