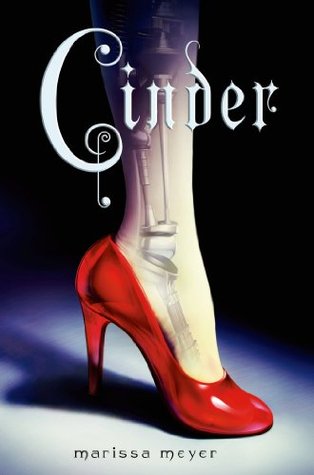 Release Date: January 8th, 2013
Status: The Lunar Chronicles #1
Synopsis (from Goodreads)
Humans and androids crowd the raucous streets of New Beijing. A deadly plague ravages the population. From space, a ruthless lunar people watch, waiting to make their move. No one knows that Earth's fate hinges on one girl. . . .

Cinder, a gifted mechanic, is a cyborg. She's a second-class citizen with a mysterious past, reviled by her stepmother and blamed for her stepsister's illness. But when her life becomes intertwined with the handsome Prince Kai's, she suddenly finds herself at the center of an intergalactic struggle, and a forbidden attraction. Caught between duty and freedom, loyalty and betrayal, she must uncover secrets about her past in order to protect her world's future.
Cinder is not your ordinary fairytale. It's a fairytale with a futuristic twist that will leave you wanting MORE!
Cinder is a cyborg and badly mistreated by her stepmother Adri. A plague is sweeping New Beijing, and when her stepsister Peony catches the virus, Cinder is to blame for their misfortune once again. Desperate to find a cure, she also ends up working for Prince Kai himself. Cinder must be careful as she balances her secret duties within the royal palace from her stepmother and the Prince himself, lest she ends up dead like other cyborgs before her.
I fell in love with this story right from the beginning, and got really sad at the end because I didn't buy the sequel. I have been reading a lot of retellings of Shakespeare, Victorian novels, and of course fairytales, but Cinder stands out from the others.
Marissa Meyer captivates you right from the beginning, and takes you on an emotional journey with Cinder as she tries to figure out how to save her sister, save herself from her abusive stepmother, stop herself from being emotionally attached to the prince, and ultimately save the world from the deadly plague.
Cinder is selfless, loving, and despite the fact she cannot cry or blush, shows that she is more human than most of the people around her. She has a huge silicon heart that causes her demise, but makes you love her more.
This entire story was fast-paced, and it is impossible to put it down. The plot is not boring at all, and constantly keeps you at the edge of your seat. Aside from Cinder's inner turmoil, you follow the story of young Prince Kai who is given the task of handling a deadly disease killing his people, and the childish, deadly whims of Queen Levana who is doing everything to marry him- and that includes waging war against the earth.
Cinder was an amazing read from start to finish! I literally could not put it down! If you ever want to read a story that mixes fairytale and robots, then READ Cinder! It was the perfect mixture of fairytale, adventure, drama and romance, with the right touch of a futuristic world and a crazy Queen. Everything was simply MAGIC!
Rating: 5 out of 5 stars!