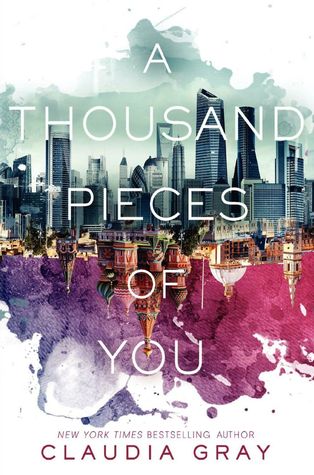 Release Date: November 4th, 2014
Publisher: Harper Teen
Synopsis (from Goodreads)
Every Day meets Cloud Atlas in this heart-racing, space- and time-bending, epic new trilogy from New York Times bestselling author Claudia Gray.

Marguerite Caine's physicist parents are known for their radical scientific achievements. Their most astonishing invention: the Firebird, which allows users to jump into parallel universes, some vastly altered from our own. But when Marguerite's father is murdered, the killer—her parent's handsome and enigmatic assistant Paul—escapes into another dimension before the law can touch him.

Marguerite can't let the man who destroyed her family go free, and she races after Paul through different universes, where their lives entangle in increasingly familiar ways. With each encounter she begins to question Paul's guilt—and her own heart. Soon she discovers the truth behind her father's death is more sinister than she ever could have imagined.

A Thousand Pieces of You explores a reality where we witness the countless other lives we might lead in an amazingly intricate multiverse, and ask whether, amid infinite possibilities, one love can endure.
I am actually super excited for this novel! I actually have never read anything by Claudia Gray before (although I had many chances to), but after reading the synopsis and seeing this beautiful cover, I was immediately hooked!
However, I know there are many CG fans out there, and to get a feel for her awesome writing, decided to reserve Spellcaster in the library!
The reason why this is on my TBR and my WOW this week is because I do love sci-fi and dystopian books, however, there are only a handful that I will actually say are my all time favourite. I really have a feeling that this book/series will be one of them (and I'm not saying that because of the cover).
I think the reason why my excitement for this book is growing is because I recently read an interview with Claudia Gray on EpicReads about the cover of the book.
What I found really fascinating about this book is that in the synopsis, the main character, Marguerite, can travel through different dimensions, but is only allowed to travel into different versions of herself.
Imagine being able to travel into different alternate dimensions, but you have to figure out who you are in them. That's really awesome, and a little creepy. But freaking awesome!
I SERIOUSLY can't wait for this book! I HOPE my request on Edelweiss goes through! *figures crossed*