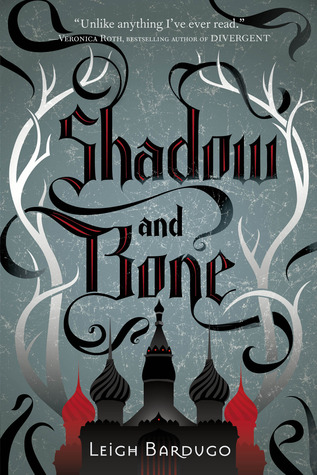 Publisher: Henry Holt and Co. (BYR)
Release Date: June 5th, 2012
Synopsis (from Goodreads):
The Shadow Fold, a swathe of impenetrable darkness, crawling with monsters that feast on human flesh, is slowly destroying the once-great nation of Ravka.

Alina, a pale, lonely orphan, discovers a unique power that thrusts her into the lavish world of the kingdom's magical elite—the Grisha. Could she be the key to unravelling the dark fabric of the Shadow Fold and setting Ravka free?

The Darkling, a creature of seductive charm and terrifying power, leader of the Grisha. If Alina is to fulfill her destiny, she must discover how to unlock her gift and face up to her dangerous attraction to him.

But what of Mal, Alina's childhood best friend? As Alina contemplates her dazzling new future, why can't she ever quite forget him?

Glorious. Epic. Irresistible. Romance.
Review
Shadow and Bone was an adventurous read with lots of action and mystery! It was enjoyable and makes you wanting more after the last page.
The story is about a girl named Alina, an orphan who's lived a content life, until one day she and her army regiment are sent to go across the Shadow Fold. Knowing they're all about to die, Alina accidentally unleashes a mysterious power that she never knew existed. Soon, her life is turned upside down as she's taking away from the army and into a life of luxury, privilege, and secrets. The Darkling claims that Alina can save Ravka from their misery, however something is always hiding in the shadows, threatening to ruin all of Ravka.
I was hooked by the plot right away, and was really excited that my friend let me borrow it immediately after she finished it. However, despite a great concept and a cool, alternate world based on Russia, I felt like it lacked something.
I know I'm probably going to get attacked by a billion Grisha fans out there, but it's my honest opinion.
All the characters in this entire book have their own personalities, the plot is very intriguing, and the threats from the outside world and inside the Grisha circles that Alina has to face are all interesting. When it's put all together, it was an okay story, but it really did lack that special something to take it to the next level.
There were parts that did drag on for me, and I didn't really enjoy Alina as a narrator or a character. She was either excessively complaining about something, or she was constantly thinking of Mal, despite the fact that he only became of aware of her romantically when he sees her for the first time in months halfway through the book. She wasn't a very strong character for me, and I found that I enjoyed a lot of the side characters like Genya and Darkling.
I felt like Genya was wonderful, and provided a nice combination of best friend, mother, and mysterious enemy. I also thought the Darkling was perfect. I don't mean he's perfect because I have a fangirl crush on him (he's very shady), but because he brought mystery, confusion, and hope to Alina's character, and when they were together, I loved it because he brought her to life.
Overall, I thought it was an okay book. I didn't think it was all that amazing, but it was an enjoyable read. I quite liked Alina's training with the old woman, because it reminded me of Rose and Yeva in Vampire Academy; I also liked the ending, where Alina pretty much says 'screw you' to the Darkling.
I will be picking up the sequel to this book, but I honestly don't think I'll be rushing to get it. I really do want to read the sequel because I do want to see Alina's character grow me- she does show that potential of being kick-ass by the latter half of the novel. And I really want to see the plot develop, and not have as much slow parts as this book.
Rating: 3 out of 5 stars