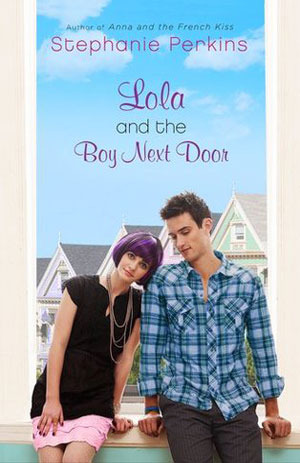 Author: Stephanie Perkins
Release Date: September 29th, 2011
Received from: my public library
Synopsis (from Goodreads):
Budding designer Lola Nolan doesn't believe in fashion...she believes in costume. The more expressive the outfit--more sparkly, more fun, more wild--the better. But even though Lola's style is outrageous, she's a devoted daughter and friend with some big plans for the future. And everything is pretty perfect (right down to her hot rocker boyfriend) until the dreaded Bell twins, Calliope and Cricket, return to the neighborhood.

When Cricket--a gifted inventor--steps out from his twin sister's shadow and back into Lola's life, she must finally reconcile a lifetime of feelings for the boy next door.
Review
Lola and the Boy Next Door is the cutest book you will ever read! YOU WILL be swooning from start to finish! Stephanie Perkins has done it again!
The story is about Lola, a budding fashion designer that follows the beat of her own drum: she wears tutus and wigs, has a dog named Honest to Betsy (yeah, I'm not kidding), and is dating a musician in his twenties. Lola is a free spirit and is full of life, but when Cricket Bell moves back next door, her seemingly easy-going life quickly spins out of control.
I actually read LOLA before I read ANNA. I read LOLA back in 2012, and I only picked up ANNA last year. I decided to re-read LOLA, after falling in love with Anna and the French Kiss.
When I first read LOLA, I thought it was one of the best contemporaries I have ever read. And it still is. What I love about Stephanie Perkin's books is that all the characters all have their own personalities, and can sometimes be a little high-strung about certain things, but they all have a quality that's not only lovable, but relatable.
I have to admit, I did enjoy ANNA much more than LOLA. I just found Anna's awkwardness and nativity much more relatable than Lola's wild, confident, and free-spirited personality, because well, I am awkward and can be naïve in some situations.
But what I liked about Lola is that she's the type of character that believes that anyone can achieve their dreams if they put enough passion, love, and determination; she's the type of character that makes big, colossal mistakes, but learns to put them behind her and become a better person from them.
I loved Lola's story and her personality, and Cricket Bell is the sweetest fictional guy of all time! Etienne still has a place in my heart, but Cricket now just has a bigger place in it. When he came back to town and Lola was describing their relationship before he moved away for the billionth time, I was shipping them so hard! I was so upset that she was still with Max, and when they broke up, I was the happiest person alive!
Seriously guys, Cricket Bell is the hottest nerd alive! I have never swooned so hard over a character till I met Cricket Bell! I felt bad, because he's so helplessly in love with Lola (like, he's been pinning over her since he was 16; and they both shared their first kiss together), and she was still dating Max! But it's okay, because well, he got her in the end and they're the most adorable couple in the world (next to Anna and Etienne :D).
I also loved how Anna and Etienne were incorporated in this story. They didn't take too much away from the main story, but they played minor roles in helping both Lola and Cricket.
Overall, this story is amazing. If you haven't read any of Stephanie Perkins books, go buy it now. Seriously, you are missing out if you don't read any of her books!
Rating: 5 out of 5 stars!