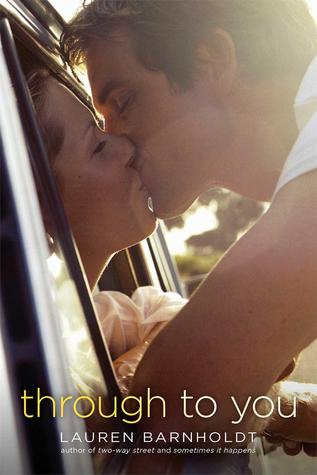 Expected Release Date: July 8th 2014
Synopsis (from Goodreads):
Opposites attract—and then complicate—in this romantic, relatable novel from the author of Two-way Street and Sometimes It Happens.

It starts with a scribbled note in class: I like your sparkle. Harper had casually threaded a piece of blue and silver tinsel through her ponytail in honor of school spirit day. And that carefree, corny gesture is what grabs Penn Mattingly's eye. Penn—resident heartbreaker of the senior class. Reliably unreliable. Trouble with a capital "T." And okay, smolderingly sexy.

Harper's surprised by Penn's attention—and so is Penn. The last thing he needs is a girlfriend. Or even a friend-with-benefits. The note is not supposed to lead to anything.

Oh, but it does. They hang out. They have fun. They talk. They make out. And after a while, it seems like they just click. But Penn and Harper have very different ideas about what relationships look like, in no small part because of their very different family backgrounds. Of course they could talk about these differences—if Penn knew how to talk about feelings.

Harper and Penn understand their attraction is illogical, yet something keeps pulling them together. It's like a crazy roller coaster—exhilarating, terrifying, and amazing all at once. And neither knows how to stop the ride…
Review
Note: I received this book from the publisher in exchange for an honest review. This does not, in any way, affect my review or my rating for the book.
Through to You was a love story about two opposites that never really expected to fall in love, fall out of love, and then fall back in love again!
The story is about Harper, a dancer and a good law-abiding citizen; and Penn, a former baseball star who, after his injury the year before, isolates himself from his friends and his family.
The two never really expected to fall in love, but after Penn slips her a note, the two just find themselves going on spontaneous road trips, and thinking about one another 24/7. However, when their personal lives clash with their relationship, Penn and Harper find themselves falling apart, and unsure of what the future will bring for them.
This book was an easy read, and I thoroughly enjoyed it. I finished it within three hours, and I just liked how the story flowed.
Penn and Harper have a good relationship for the most part, but I found that they fit the stereotypical "bad boy" meets "good girl" relationship. I didn't like how Penn shut down every time Harper asked him a question, and I didn't like his bad temper. There was actually a point where I was scared that he was going to hit her. He wasn't really one of my favourite guy characters, but he does redeem himself, and gets himself together, so I was happy with Penn at the end.
I liked Harper, I really did. She's nice, and she's always there for Penn, even when he's being an emotional little kid. I would've liked to see her stand up for herself more, but she's a good person, and I understand from my experience how hard it is to say no to others if they need your help. But she does stand up for herself near the end.
Harper's best friend, Anna, is amazing! I love that she is that she was always there for Harper, and is always there if she needs someone to call. I liked Jackson too (at the end though, because when we first meet him he is a sleeze), because he does help Penn even though he's being the world's worst best friend in the world.
There were A LOT of cute moments in this book that I just ABSOLUTELY loved! I just found it adorable how Penn loves chocolate milk, and Harper hates doctors. There are so many cute quirks in this book that just made it a great read!
Harper and Penn have a very rocky relationship in this book, due to a lack of communication, but they do get through to each other, and find their way to the end. What I love about their relationship is that it shows that love isn't instantaneous (like in some books). Sometimes, love happens when you least expect it, and it takes effort from the people in the relationship to keep the love alive and to make the relationship last!
Through to You was a great read, and I will be honest, I have never read any of Lauren Barnholdt's books before. However, after reading Through to You, I think I might just pick up more of her works :)
Rating: 3 out of 5 stars