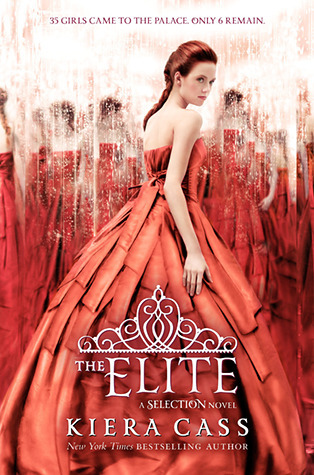 Author: Kiera Cass
Pages: 336 pages
Publisher: HarperTeen
Release Date: April 23rd, 2013
Received From: my public library
Status: The Selection #2
Synopsis (from Goodreads):
The hotly-anticipated sequel to the New York Times bestseller The Selection.

Thirty-five girls came to the palace to compete in the Selection. All but six have been sent home. And only one will get to marry Prince Maxon and be crowned princess of Illea.

America still isn't sure where her heart lies. When she's with Maxon, she's swept up in their new and breathless romance, and can't dream of being with anyone else. But whenever she sees Aspen standing guard around the palace, and is overcome with memories of the life they planned to share. With the group narrowed down to the Elite, the other girls are even more determined to win Maxon over—and time is running out for America to decide.

Just when America is sure she's made her choice, a devastating loss makes her question everything again. And while she's struggling to imagine her future, the violent rebels that are determined to overthrow the monarchy are growing stronger and their plans could destroy her chance at any kind of happy ending.
Review
Note: I am aware of the conflict that has gone down between the author, her publicist, and another fellow blogger. This does not affect my review in any way.
The Selection was a quick and easy read, and I actually enjoyed every minute of it. It was cute, it had a bit of that drama from the competition and the political aspect of the story, which I enjoyed.
Something I didn't enjoy? This book. I actually was infuriated in this book.
I was seriously banging my head against the wall like this throughout the entire book because 1) it was just too painful to read or 2) America did something so stupid that I just couldn't go through with it anymore.
Me during the middle (aka 95% of the book):
The beginning, I really did think that Maxon was going to propose to America, but then after the Halloween party, BAM! The whole thing went insane. I understand, alright? I understand why America was upset after the whole Marlee thing, but 1) DON'T GET MAD AT MAXON, BECAUSE IT WAS BEYOND HIS CONTROL! HE DID HIS FREAKING BEST TO SAVE THEM MIND YOU!
And 2) WHY THE HECK WOULD YOU FIGHT WITH CELESTE WHEN THE QUEEN IS IN THE ROOM? WHY? WHY? WHYYYYYYY?
In the first book, America was amazing, I loved her, and I loved her relationship with Maxon, but she really did mess everything up. I know that some people would say that Maxon was being mean, hooking up with Kriss, Celeste, and the other girls, but she did it to herself. She decided to shut herself down, and she decided to go to Aspen!
And I don't care if people like Aspen! Aspen can kill them! He's risking getting them caught and getting punished like Carter and Marlee, so what the heck?
This book is obviously not my favourite. I felt like this book wasn't needed. It could probably be part of the first one, but like I said, I felt like it wasn't needed. America's character really changed (for the worst), and I didn't like it. The only character I think that stayed true throughout the entire story was Maxon. His actions were understandable, because America was the one that was shutting him out, and he has been completely honest and in love with her since the beginning.
Something that I liked in this book is the discovery of the journals. I liked how that incorporated with the entire plot. I would've liked to see more political conflict as a whole, and not just the Selection learning how to address the people. If anything, this book should've been about the characters interactions about the country of Illea, learning how to handle the politics and celebrity, while investigating more about the rebel groups. I think that's what this book should've been about, because if you read the excerpts of The One, you would've learned more about Maxon's family ties, which would've gotten a bigger and better introduction if it had been hinted at sooner.
Overall, this book wasn't my favourite. I have yet to buy the One, but when I do... I don't know how I'm going to feel. I hope, I pray, that America can redeem herself so that if she doesn't choose Maxon, it will make sense.
Rating: 2.5 out of 5 stars