Hmm... Maybe I should've put "Canadian" blog tour in the title of the post as well, but hey I have a banner, so all is well :)
SO TODAY IS THE ART OF LAINEY RELEASE DATE, HAVE YOU GOTTEN YOUR COPY YET? NO! WELL... I SUGGEST YOU DO!
Not entirely sure? Well
today, I get to share with you my interview with the awesome Paula Stokes, and hopefully you'll change your mind and go get the book!
Hope you guys enjoy, and don't forget to enter the Rafflecopter giveaway bellow to win a copy of the book (INTERNATIONAL), as well as enter my own giveaway I have going on my FB page (link bellow).
Welcome to my blog Paula! It's so nice to have you on my new home! So, I got a couple of easy questions to start off with! What was the last thing song you listened to on your iPod/MP3 Player?
Learn to Fly by the Foo Fighters

Does the song remind you of anything you have read recently?
Strangely, it reminds me of both Starling and The Art of Lainey, as well as all kinds of other books, everything from Summer on the Short Bus to Allegiant. I guess the idea of "Make my way back home and learn to fly" is applicable in a lot of settings.

Your first contemporary YA under your real name is about a girl named Lainey getting revenge after her boyfriend, Jason, unceremoniously breaks up with her. What was your inspiration for writing Lainey's story and how did you come upon incorporating the Art of War into it?

The inspiration actually came from getting blown off by a guy I was involved with (though not in public, thankfully) and from a cute tatted up barista who befriended me while I was wallowing. No, he is not Micah, but he does have one of the same tattoos. Honestly I have no idea where the idea to incorporate The Art of War came from. That's the thing about writing—it's truly transcendent. I can't tell you where 50% of my stuff comes from.

To most people, this may seem as another book of a teenage break up and the narrator going through a bunch of trials and errors to figuring out that she doesn't need her ex and her dream guy is standing right in front of her. But as an author, what do you think is the real moral of the story and what do you want readers to learn from Lainey's story? (Other than coming up with a real cool way to get back at an ex?).

I tell myself I don't write books to "teach people things" but I'd be lying if I said there weren't a few really important (to me, anyway) messages in the book. First, learn from my mistakes. Don't shy away from a good thing because you're afraid of what people will think, or even because you're afraid you might mess it up. It's like Henry Rollins said: Half of life is fucking up. The other half is dealing with it." [You can feel free to censor that, Allie, if you have a swear-free blog, but I can't in good conscience censor Henry Rollins myself.]
I also feel like a lot of women need to demand a higher standard when it comes to relationships. We cling to guys who take us for granted, or worse, because we can't recognize that we deserve better. PSA: everyone reading this deserves their own Micah. There are other things in the book about friendship, girl-power, love, the best way to win a battle, etc. that also mean a lot to me. I feel like different people will read the book on different levels based on what's going on in their lives.
What was the hardest part of writing the Art of Lainey for you?
It's weird. So much of the book poured out of me that it feels like none of it was really hard. I guess I would say reading and rereading different translations of The Art of War so that I had a decent grasp of what it meant. I had read it once prior to starting this book, but never really understood it.

Micah Foster is a character from the Art of Lainey who is stealing fangirls hearts already and no doubly will steal everyone else's when the books release. Was he based on anyone that you knew? And how did you come about creating a little novella for him?

Micah is actually an amalgamation of four different guys I know, plus my imagination. Little novella—hah! The draft of that thing is over 100 pages right now. I wrote it because my lovely editor asked for it. I wanted to write a whole book, but I'm not in charge of the universe (yet) so I had to start with what she requested ;-)
What were you like in high school? Were you sporty as Lainey or as loveable as Bianca?

I think it was on Nova Lee's Out of Time blog where I confessed that almost ALL of the main characters are based partially on me, even Lainey's mom. I was a jock-brain-rocker in high school and I'm kind of a whimsical free spirit now. I was not a model or a reality TV star, but I was mean or bitchy on occasion *hangs head in shame*, so even Kendall is a little bit of me.
Who was your favourite character to write?
Micah and Lainey were the most fun to write interacting with each other because they had this great chemistry and their dialogue just flowed. I also really enjoyed writing Trinity. [Side note: Trinity is my most favorite name ever. She wants her own book, too.]
Can you describe Art of Lainey in 7 words?

Hope, heart, humor, hot boys, happy endings.
And of course, do you have any advice to readers out there that are currently dealing with their own Jason's in their life?
I actually did a blog post on Lainey and Bianca's tips for surviving a breakup that will be featured on the Epic Reads blog, so keep an eye out for that. [Note: if this post pubs first and I know about it, I'll email you the link.] In the meantime, ladies, don't forget to demand a higher standard. You rock, and you deserve to be treated as such.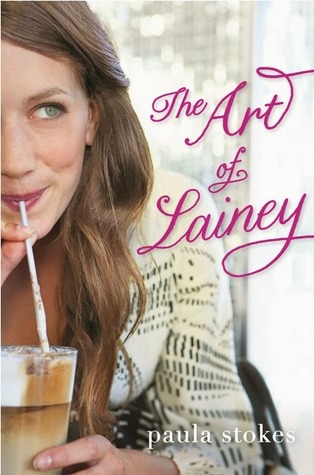 Soccer star Lainey Mitchell is gearing up to spend an epic summer with her amazing boyfriend, Jason, when he suddenly breaks up with her—no reasons, no warning, and in public no less! Lainey is more than crushed, but with help from her friend Bianca, she resolves to do whatever it takes to get Jason back.
And that's when the girls stumble across a copy of The Art of War. With just one glance, they're sure they can use the book to lure Jason back into Lainey's arms. So Lainey channels her inner warlord, recruiting spies to gather intel and persuading her coworker Micah to pose as her new boyfriend to make Jason jealous. After a few "dates", it looks like her plan is going to work! But now her relationship with Micah is starting to feel like more than just a game.
What's a girl to do when what she wants is totally different from what she needs? How do you figure out the person you're meant to be with, if you're still figuring out the person you're meant to be?
**********
About Paula Stokes
Paula Stokes is half writer, half RN, and totally thrilled to be part of the world of YA literature. She grew up in St. Louis, Missouri where she graduated from Washington University and the Goldfarb School of Nursing. When she's not writing, she's kayaking, hiking, reading, or seeking out new adventures in faraway lands. Paula loves interacting with readers! Find her online at www.authorpaulastokes.com or on twitter as @pstokesbooks.
Well, that's it for me! Make sure to go get your copy of the Art of Lainey, WHICH IS OUT TODAY! And tonight, there's a twitter party going on and you can win some awesome Art of Lainey prizes!
You can also be eligible to win some Art of Lainey swag if you like my FB page, like the giveaway pick, and tell me "What is your favourite break-up song?".
Good luck, and have a happy Art of Lainey day!
a Rafflecopter giveaway