Yay! My second Bookish Book Theories post! I'm so excited because I'm going to be making theories for the second book in the Cahill Witch Chronicles,
Star Cursed.
Like my first Bookish Book Theories post, this is going to have A LOT of spoilers! So I suggest to go read
Born Wicked,
and check out my review
here
!

With the Brotherhood persecuting witches like never before, a divided Sisterhood desperately needs Cate to come into her Prophesied powers. And after Cate's friend Sachi is arrested for using magic, a war-thirsty Sister offers to help her find answers—if Cate is willing to endanger everyone she loves.

Cate doesn't want to be a weapon, and she doesn't want to involve her friends and Finn in the Sisterhood's schemes. But when Maura and Tess join the Sisterhood, Maura makes it clear that she'll do whatever it takes to lead the witches to victory. Even if it means sacrifices. Even if it means overthrowing Cate. Even if it means all-out war.

In the highly anticipated sequel to Born Wicked, the Cahill Witch Chronicles continue Cate, Maura and Tess's quest to find love, protect family, and explore their magic against all odds in an alternate history of New England.
Okay, before I make any theories, the ending of Born Wicked? A COMPLETE Moffat ending! I was in mourning period for two days, and I really didn't want to go to choir right after finishing th
e book! I was all like:
Like, seriously. WHY JESSICA, WHY? Anyways, once I finished the book, I was going to start on the sequel, but then I read the back and then I was all like: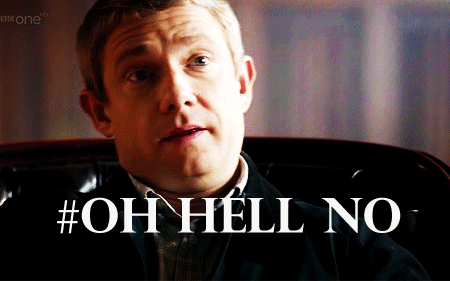 So I decided to put it off BECAUSE my mind was racing with a bunch of theories that just gave me feels on top of my other feels. Even though my first bookish theories post was Starling this book was the one that got me contemplating on making this feature. The reason why Starling and Art of Lainey went first was because I read an except of both books that brought out my feels. Anyways, this theories post will contain spoilers!
No Safe Haven
The character that surprised me the most was Maura. I think it was because she was bookish, and I thought she'd be a meek, blushing-when-guys-are-around character. I REALLY didn't think she'd be the black sheep of the sisters. And I really didn't think that she'd be the one to ruin all of Finn and Cate's plans! Seriously, I can't deal with her character.
I can seriously just see her at the Sisterhood convent thing trying to one-up Cate, not knowing she's putting herself in danger, and Cate will have to probably bargain her soul or something to keep her out of trouble. Another thing I think will happen is Tess playing a much larger role in helping Cate keep Maura in line. Despite the fact that she's 12, she's the most mature and my favourite.
The Chosen One
Okay, I still believe at this point that Cate is the Chosen One with the mystical advanced power (or something like that), since she was able to do mind tricks since she was around Tess's age.
But I also have a feeling that Tess is the Chosen One or something. If you think about it, in Born Wicked, Cate wasn't really a 100% clear whether or not she always had the power. I swear, the was a part of the book where she was all like I always had it and my mother looked at me with fear or something (okay, that wasn't the line but you get it, right?), and then there was a point near the end of the novel when she tells Elena, their governess/secret agent for the Sisterhood, that she said her mom trained her or something. Umm...
The reason why I think Cate is the Chosen One is 1) she's the main character, and 2) she was the first one that was able to do it. I do believe that Maura can do it, and we all know Tess can do it, but Cate did it first.
The other reason why I possibly think it's Tess is because she picks things up the fastest out of the three. Maura is driven by her wild spirit and recklessness, while Cate is very proper and uptight and doesn't have much feel (from what I read) for her magic because she suppresses it too much. Tess is fine balance between the two: not to strict with her magic, and not too wild. She is like the sane one and honestly my favourite character at this point. And to be honest, she seems like the only character at this point as well who, despite her age, can handle such responsibility; Cate's wary about it, but will accept it to keep her sister's safe, but Maura just wants power to satisfy her ownself.
The Murderer
I think it's Maura. Hands down Maura. I don't know, but she doesn't seem to be one above violence. She acts on her emotions and the input of outsiders, so I totally see her killing Cate.
Marry You
Finn and Cate are OBVIOUSLY gunna be together for this book! Jessica cannot, NOT, keep this two apart in this book! She-she just can't okay? Okay. Anyways, I love their relationship, probably because whenever I imagine Finn, all nerdy like with his glasses, I see him just gawking at Cate like she's a goddess or something, sort of like this:

Like, they're so adorable together! In my head, they're gunna runaway together, with his family and Tess, to someplace where the Sisterhood and Brotherhood can't find them, and they're gunna have a bunch of little babies that love to read. That, for me, would be the perfect ending in this book.
Oh Aunt Zara. What are we going to do with you? I think she'll be in this book, and I think she has absolutely no idea which one of the girls has the Chosen One like powers. I think that she's alive, and that Cate and Finn will find her.
And as for Sachi being arrested, WHY? Why, I was just starting to like her character! I have no idea how she's gunna be freed. Her dad's a brother, and to be honest with you, I don't think Rory is strong enough to save her half-sister, or will be up to save her when she learns that they're half-sisters. I totally see Finn and Cate teaming up for this!
The Title
I have NO idea what the significance of the title is to be honest with you. Maybe Cate's the Chosen One that's cursed? I don't know. I think Star represents the Northern Star leading the way, and Cate's the leader out of the three. So I think she may be cursed, and she'll have a hard time thinking straight in this book and finding a solution to her problems.
Okay, so that's it for me! My next theories post will be Meridian by Josin L. McQuein! Come back next Monday for the post!